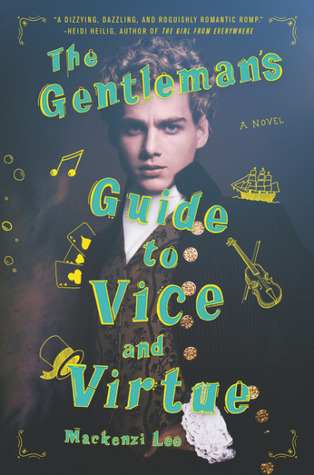 The Gentleman's Guide to Vice and Virtue
Author: Mackenzi Lee
Publisher: Katherine Tegen Books
Publication Date: June 27, 2017
Goodreads
Review:
If I'm being honest this book just wasn't memorable to me. The characters, plot, I was nearly indifferent to all of it. I had been so excited to read this book because of the hype train around it but I found myself feeling disengaged and distant from the characters.
We can blame this distance on Monty. Henry "Monty" Montague was the worst. I think he is supposed to come off as charming and a bit rough around the edges. I found him to be painfully immature, woefully out of touch, and so ungrateful I just couldn't even. I will say he does grow throughout the novel but it is too little too late. The damage to the story was already done for me. I was hoping Monty would be a character similar to Strumhound in Leigh Bardugo's Shadow and Bone trilogy. Instead Monty was a whiny brat.
I will say I liked that this book presented a multitude of different, diverse, points of view. Monty is bisexual, his sister may be asexual, and Percy, Monty's love interest, is bi-racial with an interesting family history. I think it made the stories characters more well-rounded.
It's too bad that the plot itself dragged for me. The pacing didn't feel consistent, there seemed to be a lot of downtimes followed by surprises out of nowhere. This isn't atypical to historical novels though so if you've read extensively in this sub-genre it may not bother you as much as it did me.
Overall, I enjoyed the book enough but not enough to seek out the rest of the series. But some stellar reviews could change my mind.