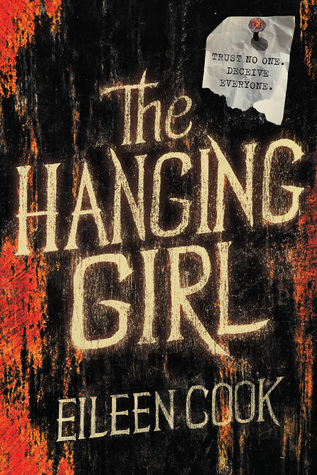 The Hanging Girl
Author: Eileen Cook
Publisher: HMH Books for Young Readers
Publication Date: October 3, 2017
Pages: 320
Formats: Hardcover, eBook
Synopsis:
Skye Thorn has given tarot card readings for years, and now her psychic visions are helping the police find the town's missing golden girl. It's no challenge—her readings have always been faked, but this time she has some insider knowledge. The kidnapping was supposed to be easy—no one would get hurt and she'd get the money she needs to start a new life. But a seemingly harmless prank has turned dark, and Skye realizes the people she's involved with are willing to kill to get what they want and she must discover their true identity before it's too late.
Interview
What sets The Hanging Girl apart from your other novels?
What I think all my books have in common are main characters who are trying to figure out who they really are. They're all in difficult situations, that they've probably made much worse by their own actions. They must decide how they will resolve the situation and what they can live with doing. The difference for The Hanging Girl is that it's a bit creepier than my other books, and pulls in a bit of a paranormal element as the main character reads tarot cards.
The initial inspiration for this book came after I went to a conference put on by The Committee for Skeptical Inquiry. They're a group of people who use science to investigate various topics- including psychics. The session I went to covered how easy it is to fool someone into believing you have psychic ability. I found that fascinating and filed away the information knowing it would be useful for a character. I am also one of those people who REALLY wants to believe in psychics, but is leery. Writing about it allowed me to explore that fear of how someone could take advantage of those beliefs.
The second bit of inspiration came after talking to a good friend about lies. I started to think about a character who tells a lie (for a good reason) and how that leads to more lies, until she is in so deep that she has no idea how to get free. I think many people have told a lie to try and make a situation better, that ended up leading to more trouble. (Hopefully not as much trouble as it got the main character, Skye, into!)
If The Hanging Girl had a theme song what would it be?
The song Ironic by Alanis Morisette works well as it's all about luck not turning out quite the way you intended it to.
Who was your favorite character to write?
This question makes me realize how parents feel when someone asks them which of their kids they like the best. I like all the characters for different reasons- even those who don't behave very well. I feel somewhat to blame for their behavior since I wrote them. I know some people like main characters to be super likable, but I enjoy characters who are a mix of good and bad. Messy people with complicated lives fascinate me.
The main character Skye is certainly right up there at the top of favorites. I admire her for being a fighter. Things haven't always been easy for her. Her dad's not in her life, her mom was really young when she was born, and financially they don't have much. Skye doesn't always make the best decisions (understatement), but she's active in trying to do something to make her life better. She doesn't sit back and complain. I always respect people who at least try.
The characters aren't based on anyone real, but like any self-respecting author I do tend to steal bits and pieces from people that I know. There are elements of Skye- her resourcefulness and her humor that I've admired in friends.
Can you tell us about any projects you currently have in the works?
To be honest I am always happiest when I have a project on the go. I love the process of making things up. I know some people feel tortured by the process of writing, but it's one of my favorite things to do. The book I am currently working on is called The Stranger, although that title might change. It takes place in London England. I don't want to give away too much but it involves a character named Kim having a chance meeting with someone who ends up completely changing her life.
Oh, and there's a murder in there too. : )
And for your extra amusement, here is a photo of my dog Cairo. He wants your readers to know that no dogs were harmed in the making of the novel.
Squee!! This puppy is the cutest!!
About the Author
Eileen Cook is a multi-published author with her novels appearing in eight different languages. Her books have been optioned for film and TV. She spent most of her teen years wishing she were someone else or somewhere else, which is great training for a writer. Her newest book, WITH MALICE, will be out in June 2016. She's an instructor/mentor with the Simon Fraser University Writer's Studio Program.
You can read more about Eileen, her books, and the things that strike her as funny at
www.eileencook.com
. Eileen lives in Vancouver with her husband and two very naughty dogs and no longer wishes to be anyone or anywhere else.
a Rafflecopter giveaway