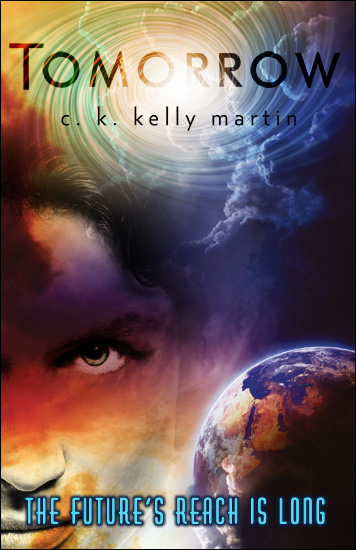 Tomorrow (Yesterday #2)
Author: CK Kelly Martin
Publication Date: October 10, 2013
Synopsis:
The sci-fi adventure that began with Yesterday continues with a thriller that can also be read as a standalone.

2063, United North America: climate change has rendered great swathes of the country uninhabitable, the rise of robot workers has created mass unemployment, eco-terrorism is a constant threat and a 2059 nuclear exchange between Pakistan and India has torn large holes in the world's ozone layer and pushed humanity's existence towards a cliff.

Garren and Freya have managed to escape that nightmare world and lose themselves in 1986 Vancouver. But the future's reach is long, and they're no longer safe there. No one is. Shadowy forces are intent on influencing the past's path. And when Freya is taken, it's up to Garren to save both her, and the future.
Interview
How did writing Tomorrow differ from writing Yesterday or your previous novels?
My contemporary books are very character driven but in Yesterday and Tomorrow the characters find themselves in such an extraordinary situation that the plot really shapes the novels. It was a big change for me to be writing gunfire exchanges and chase scenes. The pace of Tomorrow and Yesterday is much quicker than my previous books but I think and hope that the characters themselves are still extremely important. One major difference between Yesterday and Tomorrow is that because Yesterday didn't sell enough copies, Random House weren't interested in releasing a sequel. So with Tomorrow I was very hands on in aspects of the book I would have had little say in if it had been traditionally published, like the cover art. Without my editor, the feedback of my early readers was even more crucial than usual in terms of pacing and making sure I was neither over or under-explaining certain parts of the novel. I also hired a copy-editor to ensure quality in terms of grammar and other errors.
What were you three favorite things about writing Tomorrow?
1. Writing from Garren's point of view. Because I was inside his head during this book I got to know him so much better than I had in Yesterday. That was a lot of fun.
2. The flight of fancy aspect. Letting my imagination run wild to envision things like gushi (a combination of the internet as we known it and full immersion virtual reality as entertainment), 'feeders' and 'FM helmets' – technology from the future.
3. Getting another chance to revisit 1986. I loved the eighties – especially the music – and it was interesting to go back in time to a period that in ways doesn't seem that long ago to me but was also very different from today in terms of technology, the music industry, and our awareness of global warming.
What does your writing space look like or consist of?
It's a den of about eight feet by ten and…actually, how about I take a photo?
Okay, so I numbered a few things to explain their significance.
1. A copy of picture book Mister Dash and the Cupcake Calamity by Canadian author Monica Kulling. I'm a huge Dash fan (the heroic dog of the title) and Monica had her PR person send me a copy. It's so adorable that I've left it up on display.
2. You can't make it out very well on the photo but there's a TARDIS keychain hung on top of my calendar that my friend, (and fellow Doctor Who fan) Greg, gave me.
3. Beatles photos. The top one is a lobby card from their 1964 movie A Hard Day's Night and the second one I can't remember where I picked up (have had it about twenty-five years and have been a Beatles fan for still longer, since I was about sixteen).
4. Over the years my husband did great graphic illustrations of the central characters from my first four books for me. I love them so much that I amalgamated them into one image and had a poster made of it.
5. My Jane Austen action figure, for inspiration!
6. A trio of advance reader copies of Tomorrow ready to be sent out.
If Tomorrow had a theme song what would it be?
I make playlists for all my books so there are a bunch of songs I associate with Tomorrow (including ones by Tegan and Sara, Japandroids and The Pet Shop Boys), tunes that Garren hears during the events of the novel or which match up thematically with parts of the book. I guess the top three are Heroes by David Bowie, No Surrender by Bruce Springsteen and the classic folk song by Woody Gutherie, This Land is Your Land. But if I have to choose just one I think it has to be No Surrender for the following lyrics, which I have at the start of the book: "We made a promise we swore we'd always remember/No retreat, baby, no surrender." Because essentially that's the promise Garren and Freya have made to each other - that they're going to protect each other and not allow themselves to be taken by U.N.A. government forces that would do them harm. And when Freya *is* taken the only thing Garren can think about is fulfilling that promise by getting her back.
What was the last book you finished and loved?
I thought Just One Day by Gayle Forman was wonderful on multiple levels. The Paris setting was amazing and so was the bitter-sweet quality of the short-lived romance between Allyson and Willem that she can't put behind her. As much as I loved those aspects of the book what I appreciated the most was that the story was chiefly about Allyson searching for who she is. Even while she's physically searching for Willem, her search for herself is the real journey of the book. I read The Age of Miracles (by Karen Thompson Walker) a few months before that and was entirely awed by it too. The cool concept of the days increasingly getting longer never overwhelmed the book. It didn't turn into an action story and instead remained a very literary novel which showed the changes, big and small, that the slowing of days made in one girls life.
About The Author
C.K. Kelly Martin always thought she'd get around to writing in earnest eventually and began writing her first novel in a flat in Dublin, finishing it in a Toronto suburb. By then she'd discovered that young adult fiction felt the freshest and most exciting to her. You have most of your life to be an adult but you only grow up once!
Martin currently resides near Toronto with her Dub husband. She became an Irish citizen in 2001 and continues to visit Dublin often (although not as often as she'd like!) while working on teen novels.
Giveaway
a Rafflecopter giveaway