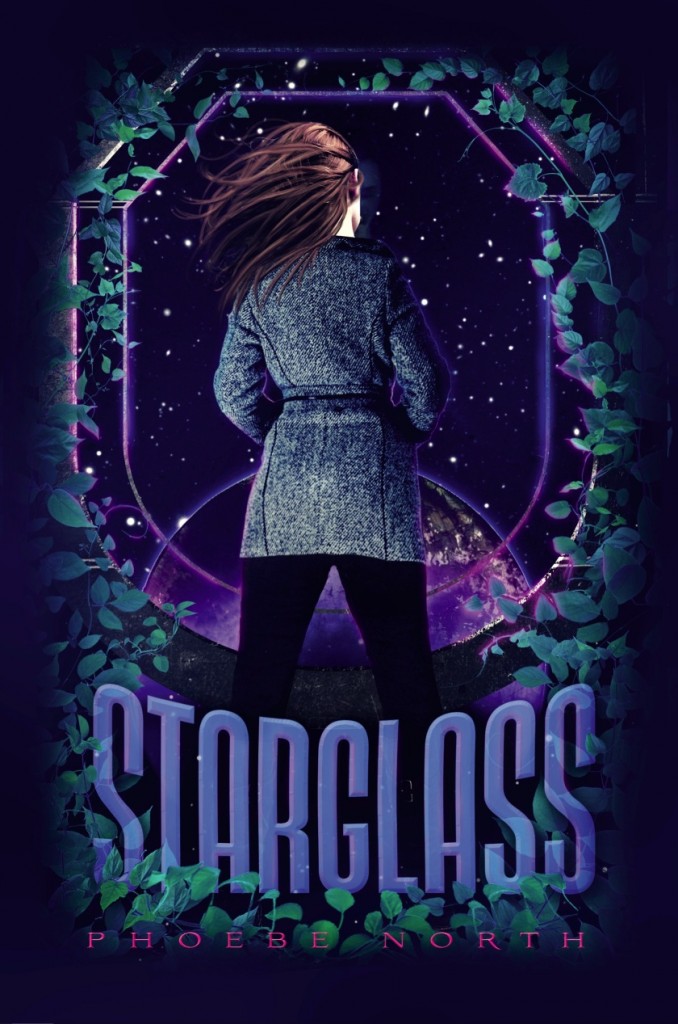 Starglass
Author: Phoebe North
Publisher: Simon & Schuster
Publication Date: July 23, 2013
Synopsis:
Terra has never known anything but life aboard the Asherah, a city-within-a-spaceship that left Earth five hundred years ago in search of refuge. At sixteen, working a job that doesn't interest her, and living with a grieving father who only notices her when he's yelling, Terra is sure that there has to be more to life than what she's got.But when she inadvertently witnesses the captain's guard murdering an innocent man, Terra is suddenly thrust into the dark world beneath her ship's idyllic surface. As she's drawn into a secret rebellion determined to restore power to the people, Terra discovers that her choices may determine life or death for the people she cares most about. With mere months to go before landing on the long-promised planet, Terra has to make the decision of a lifetime--one that will determine the fate of her people.

Starglass Book Trailer from Phoebe North on Vimeo.


There has been a space sized hole in my heart since the last page of Across The Universe by Beth Revis. Usually I'm not one for sci-fi novels but something about being trapped on a ship heading to a far away planet really captures my attention. Needless to say when I finally got my hands on North's novel I was excited to get back aboard the ship, heading toward the next great adventure.
The thing about this novel though was that it was less about the ship and more about the people aboard the ship. For a huge chunk of the story, well most of it actually, I had no idea what the ship even looked like. Bit's a pieces of information were given but never enough to paint a vivid picture of how the ship looked. I also didn't know anything about the inhabitants of the ship until half way through the novel when North decided to let us in on the fact that the ship was begun by the Jewish Federation (This is totally not the real name but it was something similar). At this point I was like "Oh! That's why all the characters keep injecting random Jewish words!" Prior to that I just thought they were fun words that people decided were in vogue in the future.
We meet Terra just prior to her graduation day. At 16 the students become adults and receive job placements from the council this is just one of the many duties and ways in which the council controls the populace. The council is basically a totalitarian regime and so I wasn't too surprised when Terra finds out about an underground group working to overthrow the council.
I liked Terra, it took me a while to get to know her but once I did she really grew on me. Terra has been through a lot, more then anyone else on the ship has. I liked that her character was real and fallible. Terra makes mistakes and is quick to get swept up with the rebellion's rhetoric.
The romance in Starglass is something I could not have predicted. Those of you tired of love triangles will definitely get something different with this novel! I liked that it was completely out of the norm from other stories. Terra doesn't need a husband vindicating her choices or holding her hand. The girl makes her own decisions and while there was plenty of foreshadowing I was still happy with the direction North took with the romantic aspect of the story.
Overall, Starglass is a promising start of a new series. I look forward to the next novel and what the planet of Zahreh has in store for the people of the Asherah.
Uprising by Muse
The Entire Resistance album by Muse really fit with this book honestly. They both have a spacey vibe while also capturing that rebellious spirit.
Before My Time by J. Ralph, Scarlett Johanson
The loss of Terra's Mother in the beginning of the story made me think of this song. Also it fits some of the more melancholy parts of the story.
Dead In The Water by Ellie Goulding
I like this song because it's beautiful but also captures heartache, and that feeling you get when you just can't get anything to go your way and things feel hopeless.
Unnatural Selection by Muse
I had to include another song from the Uprising album because it is just too perfect! This has both space-y sound and fits the story so perfectly! Also it's just an awesome song!
In For The Kill by La Roux (Skrillex Remix)
I think this story really fits the end of the novel and Skrillex's remix helps to give it a more futuristic sound.
Phoebe North spent the first twenty-two years of her life in New Jersey, where she lugged countless library books home to read in the bathtub, at the dinner table, in front of the television, and under the blankets with a flashlight when she should have been asleep.
After college, Phoebe went south, enrolling in the University of Florida's MFA program to study poetry. But after studying children's literature with kidlit scholars (and geniuses) Kenneth Kidd and John Cech, she started writing books about magic, robots and aliens for teenagers. And realized she loved it almost as much as she loved Star Trek IV: The Voyage Home.
Now, Phoebe lives in New York State with her husband, and many licensed novels. She likes to cook, watch Degrassi, sew, take her cat for walks, and, of course, write. Despite many soaked pages, she still loves to read in the bath.