This week it was announced that I will be representing
The Darkling
from Leigh Bardugo's Shadow and Bone series in the YA Sisterhood's Summer Crush Tournament!
I could not be more excited to represent a character who is:
♥ Charming
♥ Powerful
♥ Complex
♥ Deep
♥ Lonely
♥ He really is the villain we love to love!
Now on to the other exciting announcements and things! For the Tournament we will be using the Hashtags
#DarklingsDarlings
♥
#DarknessNeverDies
I have also made buttons which you can put on your blog, goodreads, twitter, facebook, tumblr, you can put it on your locker and have all your friends at school ask you who that overly hot guy is, WHEREVER! A Special thanks goes to
Tiffany
who made the top image with that awesome Darkling Font in the background.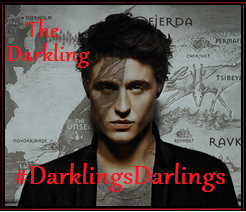 The Darkling is going to have a tough third round. We are going against Dimitri from the popular Vampire Academy Series. Never fear though I know The Darkling's Darlings can pull together and secure a third round victory! But in order to do this I will need YOUR help!
July 8th Vote for The Darkling!
In order to help sway you to the Darkling side I am offering an incentive. A copy of Shadow and Bone, the book that made us all swoon for this bad boy OR the sequel Siege and Storm! All you have to do is join the second army by plastering the Darkling's image around, and by voting for The Darkling on
July 8th
!
If you would like to join The Darkling Street Team or have any ideas on how to get the word out about the ultimate bad boy e-mail me at Emisbookblog@aol.com or Tweet me
@FallingForYA
!
a Rafflecopter giveaway